On 15 March 2017 a workshop took place in the School of Languages and Area Studies of the University of Portsmouth entitled 'Narrating migrations'. Organized by Emmanuel Godin and Ed Naylor, and supported by the Leverhulme Trust and the University of Portsmouth, the event aimed to explore how migration and migrant experiences are represented in Europe today beyond the news media and academia. Three invited speakers presented their work on this theme in the domains of museum curation, literature and documentary film-making respectively. Their talks were recorded and will be featured as podcasts on the blog over the coming weeks along with further details about their projects.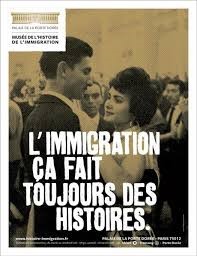 Professor Martin Evans (University of Sussex, @HAHP_Sussex) kicked off the proceedings. Martin Evans is currently curating an exhibition "Paris-London – Two Global Cities" which will open in October 2018 at the Musée d'histoire de l'immigration in Paris. The exhibition will consider how Paris and London have been transformed by global migration since the end of empire. With a particular emphasis on music, but also literature, poetry, theatre, painting photography and film, the Exhibition seeks to open up new comparative perspectives between the two cities as global and (post)imperial capitals. In his talk he discusses the genesis of the project, the influences which inspired it and shares some of the insights he has gleaned into transnational networks, Diasporas and hybrid cultural practices.
After the opening at the museum in Paris, the plan is for the exhibition to then come to London –details will be posted on the blog at a future date.