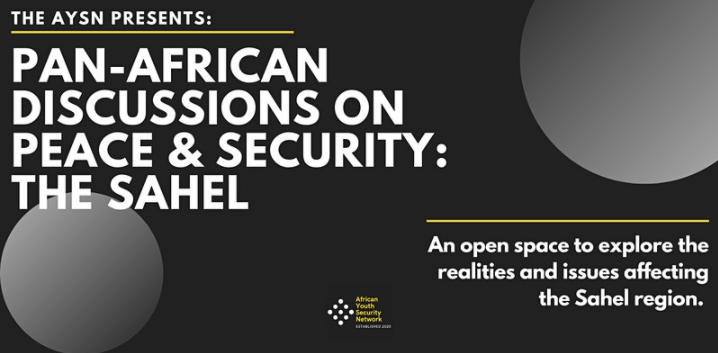 Tue, August 17, 2021
7:00 PM – 8:00 PM BST
The African Youth Security Network is having another discussion and this time on the Sahel region and its conflicts. Speakers include:
Murtala Abdullahi is a Nigerian reporter and researcher with HumAngle Media. He writes on climate and human security in Nigeria and Lake Chad. He is also the founder of Goro Initiative, a non-profit for promoting understanding of climate, peace, and security in Nigeria.
Sabrina holda Adongo is a Ugandan and a Masters's student at Masaryk University studying Conflict and Democracy studies. She also holds a degree in International Relations. Her main areas of focus include the conflict in Central Africa, the Sahel region, refugee welfare, conflict resolution, and humanitarianism.
Thierry K'pele is a Togolese national and an Arms Trade Treaty (ATT) expert. He is also an armed conflict analyst, a trainer of the International Small Arms Control Standards (ISACS), and the chairperson of the OJAP Commission.