Our fighting sisters: Nation, memory and gender in Algeria, 1954–2012 by Dr Natalya Vince is out now with Manchester University Press.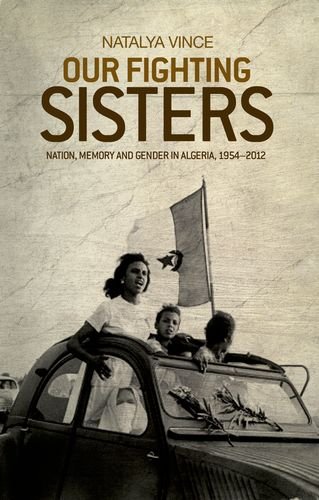 Between 1954 and 1962, Algerian women played a major role in the struggle to end French rule in one of the most violent wars of decolonisation of the twentieth century. Our Fighting Sisters is the first in-depth exploration of what happened to these women after independence in 1962.
Based on new oral history interviews with women who participated in the war in a wide range of roles, from members of the Algiers urban bomb network to women who supported the rural guerrilla, the book explores how female veterans viewed the post-independence state and its multiple discourses on 'the Algerian woman' in the fifty years following 1962, from the euphoria of national liberation to the civil violence of the 1990s. It also examines the ways in which these former combatants' memories of the anti-colonial conflict intertwine with, contradict or coexist alongside the state-sponsored narrative of the war constructed after independence.
Part of an emerging field of works seeking to write the post-independence Algerian history, this book aims to go beyond reading Algeria through the lens of post-colonial trauma or through a series of politicised dichotomies pitching oppressed citizen against oppressive state, official commemoration verses vernacular memory or contrasting narratives of post-independence decline with post-colonial success stories. Instead, this original book is about the contradictions and compromises of state- and nation-building after decolonisation. Its wider conclusions contribute to debates about gender, nationalism and memory and it will appeal to students and scholars of history, politics, area studies, gender studies and memory studies.